What can you expect from our online learning courses?
Our courses focus on deepening teacher knowledge and building expertise within the teaching profession. We believe that having a extensive knowledge of education theory and practice is empowering. We want teachers to be confident : confident to make changes to their classroom practice, confident to lead developments in school, confident to support the professional development of others. We want to share the knowledge we have gained with others, provide practical advice and guidance, and support the profession in being extraordinary!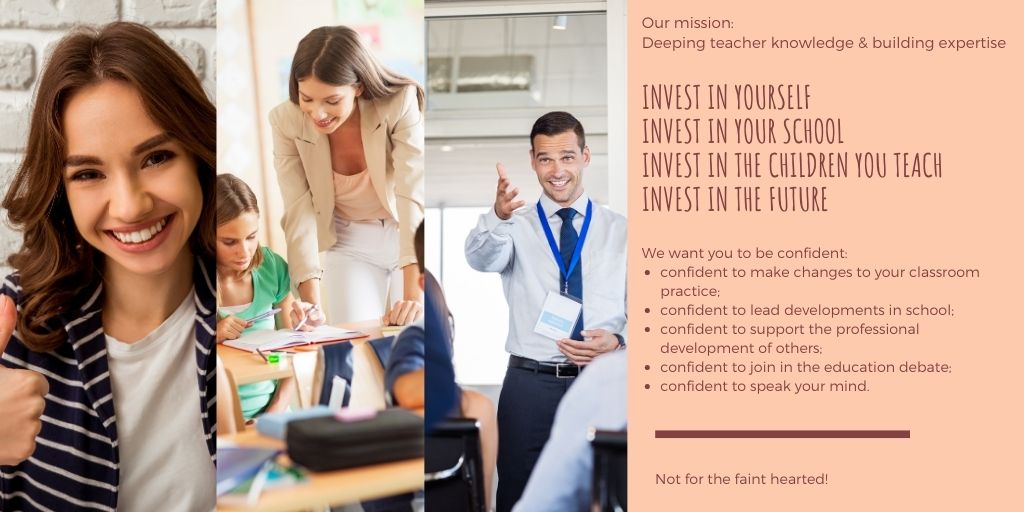 All our courses are based on a firm foundation of educational research.
All our courses focus on combining theory with classroom practice.

All our courses are designed for colleagues who are dedicated to continuous professional development and are passionate about teaching.
All our courses have received positive feedback about the impact training has had on pupil outcomes.
We focus on ensuring our courses can make a real difference to children.
All our courses use a variety of materials to support teachers : video tutorials, lesson extracts, guidance documents, useful lesson materials, audits and checklists. Many of the classroom resources can be edited so that teachers can customise the materials to meet the needs of the children in their classes.
All our courses are broken into clear sections which ensures participants can customise their path through the units of study.
All our courses represent excellent value for money.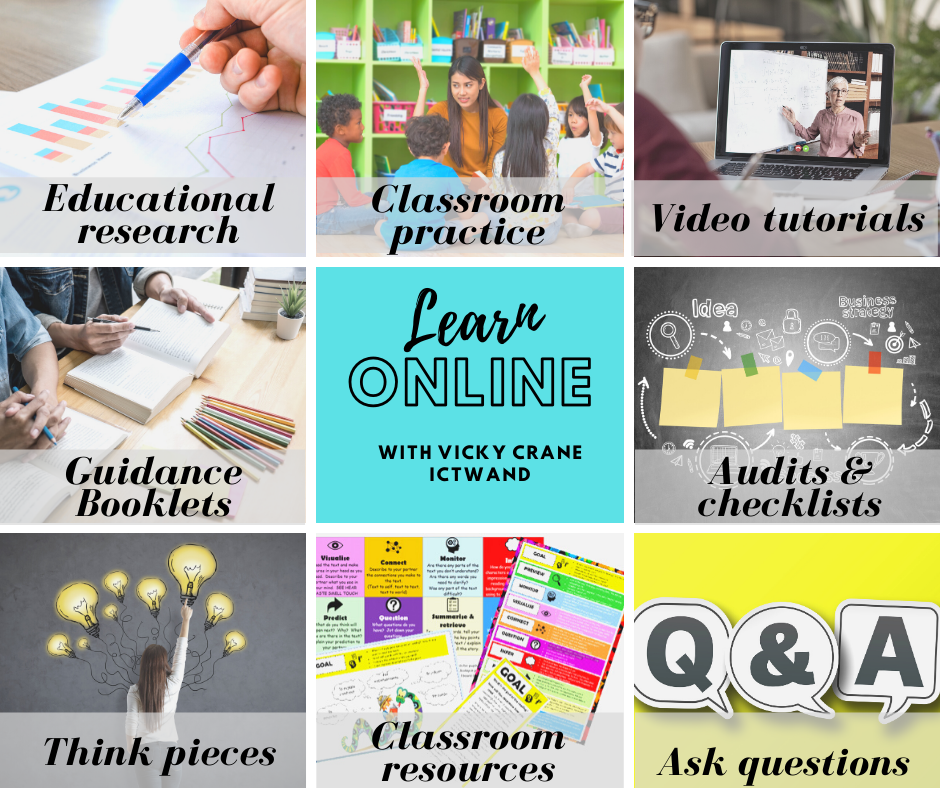 Why do we create online courses?
At ICTWAND, we love learning about learning and unpicking educational challenges. We are passionate about the power education has to open doors: be that for children, teenagers or adults. Learning empowers. Knowledge stimulates thinking and opens up new avenues for us to explore.
"I have been fortunate to study education practice for many years and privileged to work with hundreds of fantastic teachers and leaders in the UK. The online environment provides an opportunity to share findings. It can sometimes be difficult for teachers to participate in face-to-face courses, particularly those that are multi-day courses. However, that should not prevent us as a profession from deepening our knowledge and building our expertise. Online environments and online courses offer us a brilliant way to study in-depth, at a time and place of our choosing, and at a pace that suits us. When tackling challenging materials it is also perhaps easier to study the content in chunks of perhaps an hour or two rather than for whole days, and an online environment allows us to pause between elements of study to reflect, to plan or to try out new ideas in the classroom. In addition, the online environment offers us the opportunity to go back and revisit advice, re-watch video clips and remind ourselves of the key points at any time during the year. We can login and download materials that are pertinent to the lessons about to be delivered. An online environment also enables us to provide participants with a wide range of resources, many of which can be edited. Far more supporting resources can be provided than would be possible via printed packs." Vicky Crane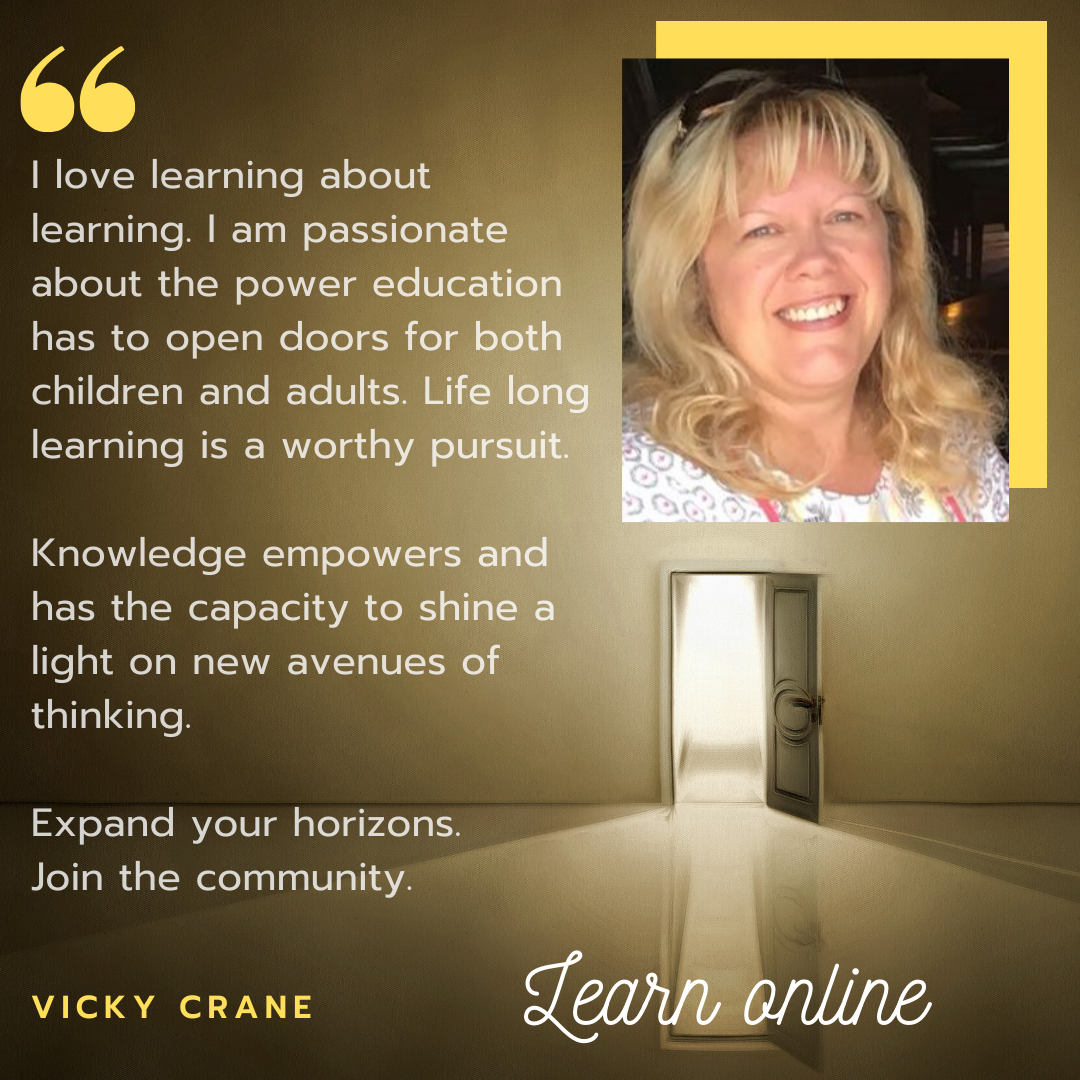 The courses we provide are about studying and developing expertise - expertise that can make a real difference to pupils. Online courses allow teachers from around the world to participate and whilst the courses are designed with UK teachers in mind, there is much that is applicable to teaching in other countries.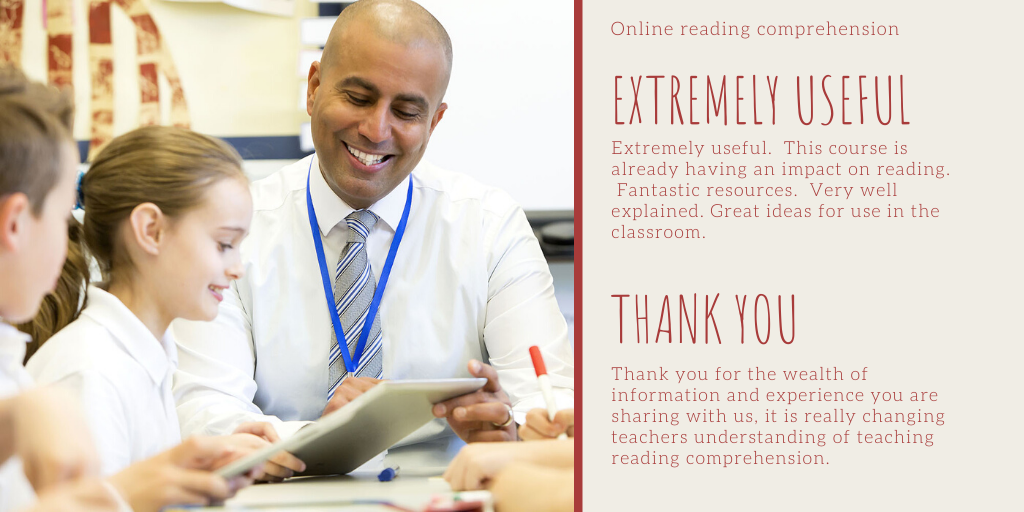 One of our most popular courses with schools is our reading comprehension course . We are passionate about reading and want teachers to feel highly skilled and confident in developing reading comprehension. Learning empowers and opens doors - one incredibly powerful tool to achieve this is through reading. We are dedicated to supporting children to love texts of all kinds. The course can be purchased online (as a single payment or spread across a number of months) or UK schools can request an invoice from [email protected] - discounts are available for multiple accounts in the same school.
Don't wait : Enrol today
Fabulous resources for teaching pupils reading comprehension strategies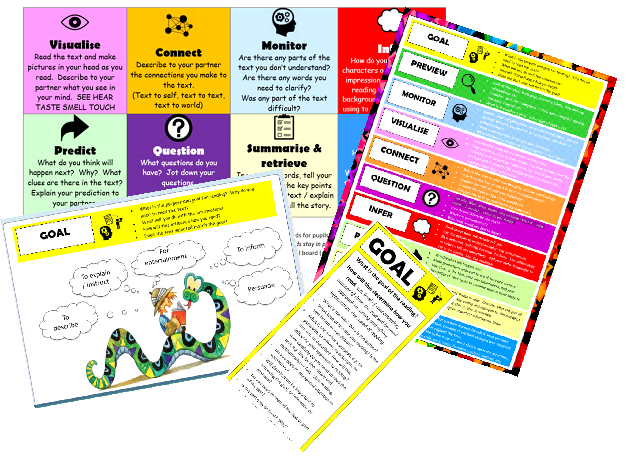 A wide range of resources to promote book talk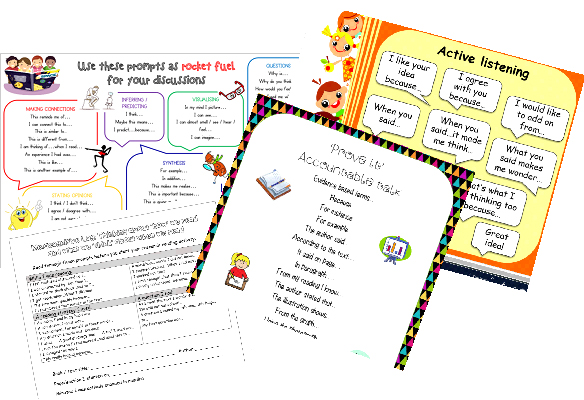 Stacks of worksheets and templates for pupils to use with any book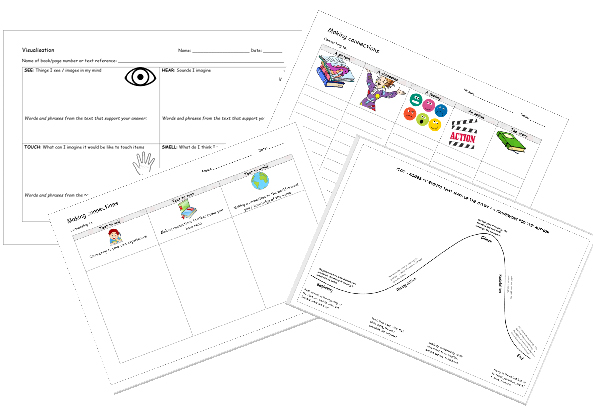 Amazing value - more than 20 sections of video clips, resources and guidance
Below you can see a snapshot of the menu system for accessing units of study. There are more than 20 sections.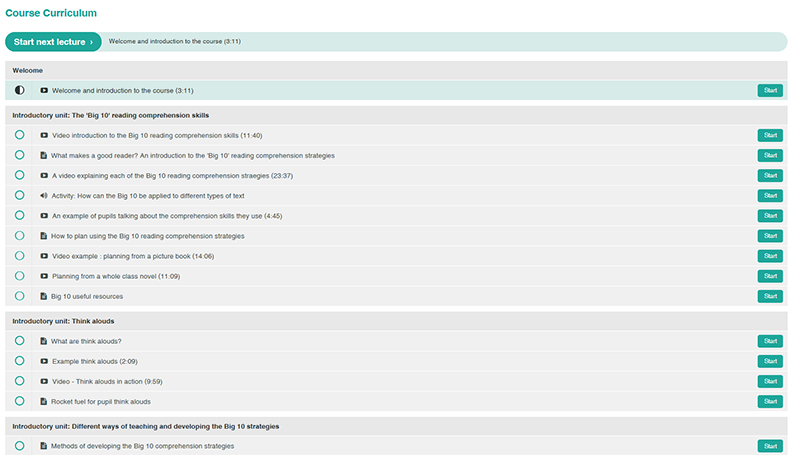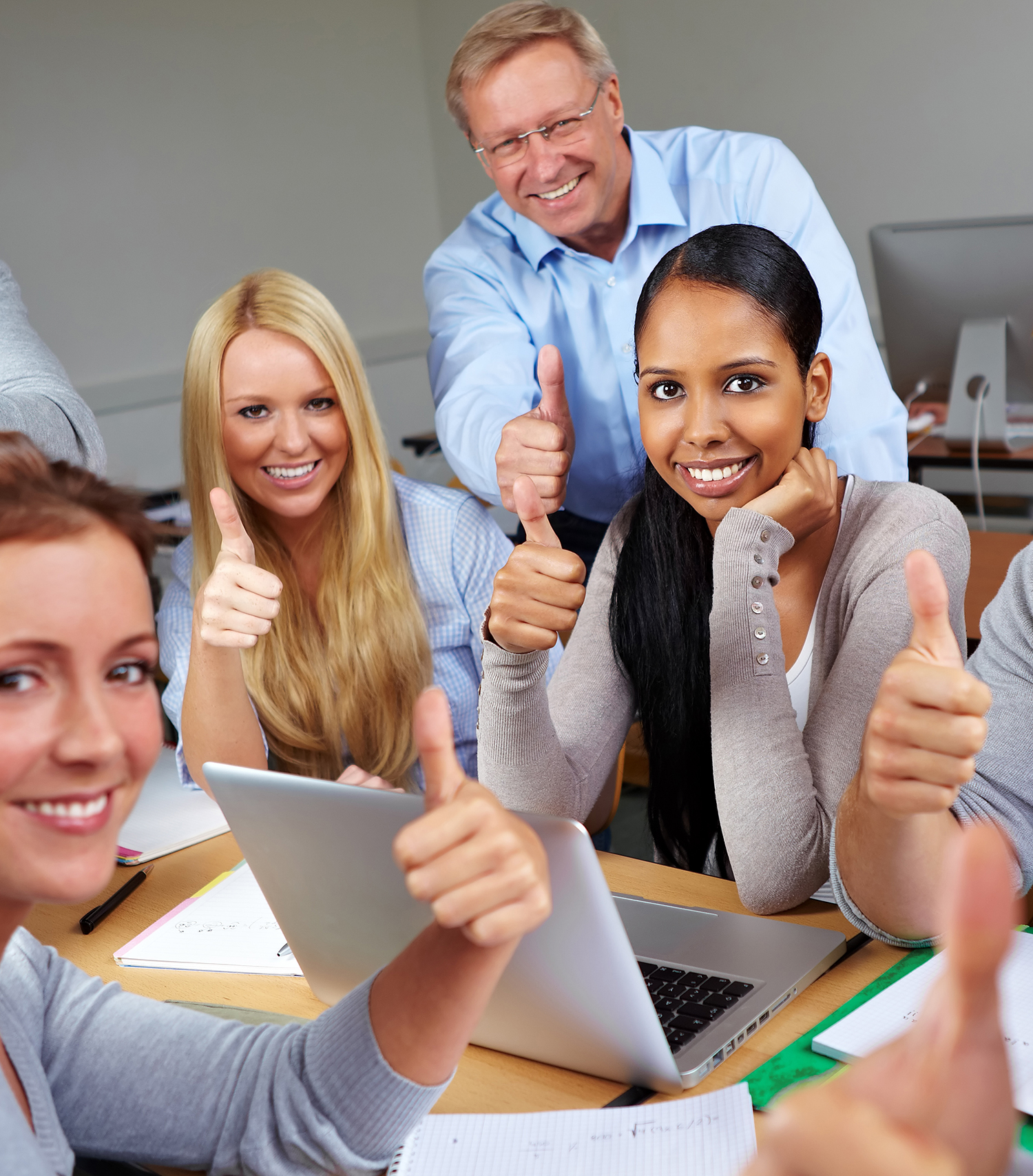 "Extremely useful. The course is already having an impact on reading."
"I feel totally inspired and determined to improve reading."
"Wow! Superb – brilliant ideas that I can use straight away in class. So many new resources which I know will engage the children."
"Everything !It has given me a real boost to think more about how reading is taught and what the children need. Thank you for all the brilliant resources."
"Fantastic resources. Very well explained.Lots of examples of good practice. Great ideas to use in the classroom."
"This is an excellent course — definitely worth checking out!"
A range of primary school teachers.